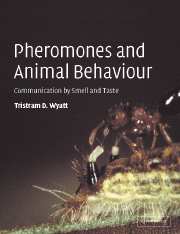 Reading for all students:
Chapter 1 "Animals in a chemical world" of Tristam D. Wyatt's book entitled "Pheromones and Animal Behaviour: Communication by Smell and Taste." Cambridge University Press.
Book on reserve in library or available from Amazon
Download Leslie Vosshall's 6/2/2008 PPT presentation.

Reading for student presentations on June 9, 2008:

Please prepare by reading the papers below so that our discussion on June 9th will be interactive and lively. Thanks for your help.-Leslie
Jeff Liesch will present:
Pheromones and Aggression in Mice

Download PRIMARY PAPER--READ CAREFULLY: Identification of protein pheromones that promote aggressive behaviour. Chamero et al., Nature 450:899-902, 2008

Download SECONDARY PAPER--JEFF WILL COVER THE AGGRESSION HIGHLIGHTS IN THIS PAPER: Loss of Sex Discrimination and Male-Male Aggression in Mice Deficient for TRP2. Stowers et al., Science 295:1493, 2002

Andres Bendesky will present:
Sexual Dimorphism in the Drosophila Pheromone Circuit

Download The Drosophila pheromone cVA activates a sexually dimorphic neural circuit. Datta et al., Nature 452:473-477, 2008.